We are told there are good and bad types of cholesterol. HDL is the 'good' type and LDL is the 'bad' type, and if you get a cholesterol test the medical people look at the LDL levels and sometimes shake their heads and talk about heart attacks…… Statins are the next thing they reach for.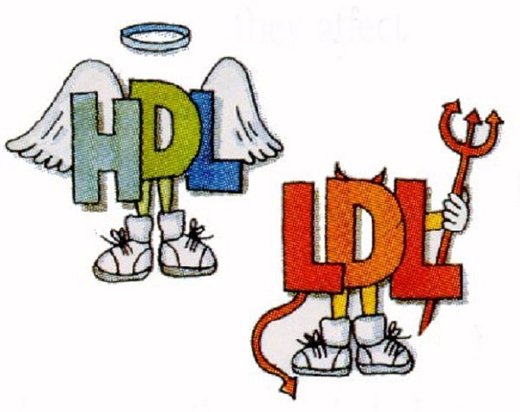 My understanding from reading over the years is that high Homocysteine levels are indicative of cardiac risk, and not cholesterol levels. Homocysteine levels are lowered and regulated best by eating green leafy vegetables, more fruits and foods containing Folic Acid, so there is no profit in that for the pharmaceutical industry.
Now it appears that some studies are showing higher levels of cholesterol, whether HDL or LDL, are not associated with higher risk of heart attack…in fact, the older we get a higher level of LDL is associated with a longer life.
This is quite a turn around and a relief to people like me whose doctors shake their heads at their cholesterol readings 😀
"Our findings provide a contradiction to the cholesterol hypothesis," concluded Diamond. "That hypothesis predicts that cardiovascular disease starts in middle age as a result of high LDL-C cholesterol, worsens with aging, and eventually leads to death from cardiovascular disease. We did not find that trend. If LDL-C is accumulating in arteries over a lifetime to cause heart disease, then why is it that elderly people with the highest LDL-C live the longest? Since people over the age of 60 with high LDL-C live the longest, why should we lower it?"

https://www.sott.net/article/321446-The-crumbling-cholesterol-myth-Research-finds-that-higher-levels-of-LDL-cholesterol-lead-to-longer-life
Our review provides the first comprehensive analysis of the literature about the association between LDL-C and mortality in the elderly. Since the main goal of prevention of disease is prolongation of life, all-cause mortality is the most important outcome, and is also the most easily defined outcome and least subject to bias. The cholesterol hypothesis predicts that LDL-C will be associated with increased all-cause and CV mortality. Our review has shown either a lack of an association or an inverse association between LDL-C and both all-cause and CV mortality. The cholesterol hypothesis seems to be in conflict with most of Bradford Hill's criteria for causation, because of its lack of consistency, biological gradient and coherence. Our review provides the basis for more research about the cause of atherosclerosis and CVD and also for a re-evaluation of the guidelines for cardiovascular prevention, in particular because the benefits from statin treatment have been exaggerated